Go to their web site and click on the Pledge Now! button. They do not list the date that Firefox 3 will be released but when you pledge and give them your email address they promised to send you an email with a reminder when they are about to release it.
http://www.spreadfirefox.com/en-US/worldrecord
Set a Guinness World Record Enjoy a Better Web

Sounds like a good deal, right? All you have to do is get Firefox 3 during Download Day to help set the record for most software downloads in 24 hours – it's that easy. We're not asking you to swallow a sword or to balance 30 spoons on your face, although that would be kind of awesome.
By the way, the official date for the launch of Firefox 3 will be posted here soon – so check back! Join our community and this effort by pledging today.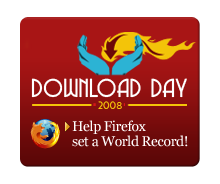 UPDATE: "The official date for the launch of Firefox 3 is June 17, 2008. Join our community and this effort by pledging today."