I was out running this morning. While I ran I was listening to a podcast in which Dr. Paul interviewed Jarom Thurston. It was an excellent podcast about how has made the choice to do what he though was impossible and run a 135 mile race.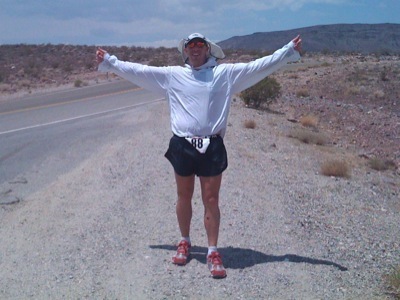 As running usually does, it got me thinking about things. That is one of the wonderful benefits of exercising my body. It usually wakes up not only my body but also my mind and my spirit. I think more clearly and am more in tune with the universe.
Anyway, I got to thinking about barriers (aka walls, obstacles, challenges, hard times in life). Barriers are not put in our life for us to stop at. Instead, barriers are but mile markers. They are hurdles to go over under around or through. The were put in our life to challenge us and to make us better. We become better when we give up the comfort of the status quo.
I had the thought that entropy is not actually caotic. Entropy is a system that was put into place on purpose to take any object (or person) that is not meeting or exceeding the status quo reduce that object to elements so that those elements can be used by other objects that ARE meeting and exceeding the status quo and therefore need the extra elements.
Remember the Parable of the Talents? Two of the servants took what they were given added some work and increased their talents. They beat the status quo. The last servant was lazy and hid his talent. He probably thought it would be "easier" to just save the talent for when the master came back. What happened to the talent in the end? The Lord (who implemented entropy) took that talent away from the lazy servant and gave it to the servant that did the most work.
We did not come here to Earth and were not given these bodies so that we could watch them get old and die. We came here to grow strong and live.
When you stop using your muscles, they atrophy. When you stop cleaning the house, it becomes a garbage dump. When you stop working, you stop getting money. When you stop putting gas in your car, it eventually stops running. Weakness that only gets weaker. Laziness only gets more lazy. What is the common theme in all of this? A lack of energy. When we stop putting our energy into something, it stops working.
It is thought that pain and discomfort are bad. The words "pain" and "discomfort" both have a negative connotation. It is natural for us to stop doing what hurts or to take pain killers to take away discomfort. WARNING!! Pain and discomfort are GOOD things. Pain and discomfort are indicators that are meant to be heeded.
In the context of exercising, pain and discomfort indicate that you have reached your limit, the edge of your normal capabilities, your status quo. We know for a fact that going past that point is when your muscles start to grow and your abilities increase. It hurts to do it and is very uncomfortable. Yet the results are amazingly rewarding.
We did not find out that the world was round by sticking with the status quo. We did not get to the moon by sitting around waiting for it to happen. Olympic athletes to know win races by doing minimal exercises each day. Effort and energy are required to beat the status quo.
Pain and Discomfort are indicators of success. They tell us we are doing great and are on the right path. If we recognize Pain and Discomfort as cheerleaders, or loyal fans, or avid supporters we can wave to them as we run past them and use their noises as cheers to push us onward.
Super heros are ordinary people who have learned to see pain and discomfort and use them and jumping blocks. If you find that you have hit a "wall" in your life, push yourself past it and you will feel the amazing sensations of living and of growth and success.
If you are looking forward to retirement, old age, and death. Have fun, because is what the universe and entropy will bring you. I choose to live! The more I age, the younger I get. The more energy I put into life, the more alive I am. I will never retire. I will never surrender my life. If God decides that I have fulfilled my purpose here on Earth and decides to take me home, I will leave happy and active. Leaping over the pains and discomforts of life.
CHALLENGE: The next time you feel that life is hard, uncomfortable, or even painful to you, take a moment to recognize that you have just reached a milestone and that to continue will take energy but that is will be worth it. Then push past the pain and look forward to the amazing growth and goodness that awaits you as you reach new heights.
Thank you to David Hinton for the concept in speed reading of reading as fast as you can so you can meet the status quo and then push past it as much as possible before the time runs out. Thanks also to Jarom Thurston for sharing his experiences with doing the impossible.