Which conversely means that being young is also a choice.
In the scriptures we are commanded to, "become as a little child". There is a lot of meaning in the simple phrase. Perhaps one overlooked meaning could be a commandment to be young.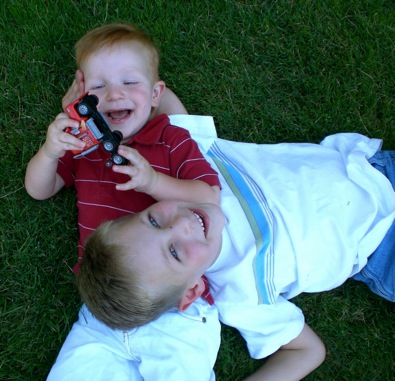 What, then, is it that keeps children so young? For them, the whole world is new, exciting and challenging. Children are naturally active physically, exploring and inquisitive mentally, continually curious and learning.
What changes? Why do we stop being so young?

As we graduate high school and college we move out of the habits that we had as children. Our situation changes as well as our responsibilities.
When we stop our formal education we have the tendency to stop learning altogether. We get caught up in being entertained by our televisions, movies, music, video games, etc. Our creative processes slow down, unless our jobs require creativity. Otherwise, we tend to stop creating and learning.
As we become "adults" we are no longer under the wings of our parents and have to actually provide for ourselves. We have families and have to provide for them as well. It is easy to get stuck in the mind set of going to work every day, coming home and vegetating on the couch and then going to bed only to start it all over again.
In our twenties we change our habits from young and active to more sedantary physically, then mentally.
Then after thirty or so years, tradition holds that we should feel that we have worked enough and should then "retire". The retirement tradition lends to an even more sedentary life style.
It is no wonder we that die when we are 60 or 70. Our bodies and minds have so atrophied from lack of use that they just give up.
These bodies that we have are amazing, even more amazing than we give them credit for. I submit that with the proper understanding and a massive change in the way we think about our bodies, they could actually live much longer. Even to a thousand years. We have records of people living nearly a thousand years, on this planet, in these same types of bodies. We know it is possible.
I ask again, what changes? Why do we stop being so young?
I think it is partially because of tradition. Getting old is a paradigm. We do it because that is what our parents did, and their parent before them, etc. We get old because we are following a pattern. We are taking the path of least resistance and doing what have been taught to do.
I also think that we stop being young because we stop creating. We stop imagining. We stop learning and being inquisitive about this universe that we live in. For some reason, when we get out of high school and college we think we know it all, or at least enough for us. We find a job and that is the end. We know enough to make some money to keep food on our table so that we can go through our daily rat wheel cycle of monotony that some people call life. I am sorry, but that is not my idea of life. I may love my job, but my job is not my life. It is merely one small aspect of my life.
We need to be continually creating. We need to rekindle the desire to learn more about who and what we are. What our capabilities are. Finding new frontiers to explore. Work and money are a means to an end, but our end should not be so limited. There are so many opportunities out there to learn and grow. So much that is exciting to learn and to do.
Another way to stop being young is to stop being physically active. We should be taking time to play every day. We should be pushing our bodies to their limits and forcing them to continue to rejuvenate themselves. Playing with children is a great way to be rejuvenated. I think that youth is actually contagious.
Think also on the types of foods we eat. How often do we eat living food (fresh fruits, vegetables, grains) compared to dead food (overly processed, deep fried, shelf life of an thousand years food)?
Getting old is a long held tradition. It is a fad that needs to go away.
We were sent here to learn how to control our bodies.
If in our minds we think that we are supposed to grow old, our bodies will follow suite. These bodies of ours have an amazing capacity for rejuvenation. Sadly, we currently do not tap into those abilities much. Much of it is due to a lack of knowledge, but much is also due to the "knowledge" that our bodies grow old. Sure, they CAN grow old, but why would we want that? Why have we let ourselves continue such a foolish tradition? I want my body to live to be one thousand earth-years old. When I am 950, I still want to be whooping up on 20 year old kids on the soccer field.
Now that you think I am completely crazy, watch this TED talk that I blogged about six months ago: Why we age and how we can avoid it
Then tell me if you still think I am crazy, and why.