Those boys and girls in Washington keep trying to mess around with the economy, thinking they know how to "force" the economy into doing their bidding. I am tired of hearing of bailouts and stimulus packages.
A friend of mine had an idea and acted on it, to start a grassroots campaign to show Washington how the economy is supposed to work and give it a boost from the people who ARE the economy. WE are the economy.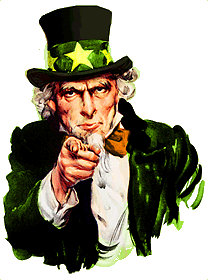 Tired of waiting for Washington to patch up the economic mess we're in? I am too. Everywhere I turn, I see or hear about Washington's plans to 'save' businesses, industries, communities, and the economy in general.
The only real economic stimulus is that which the citizens of this nation provide when they let go of fear and live abundantly.
I encourage everyone to "join the Green 317 movement" and together we can send a message to Washington and show them what a real economic stimulus is.
Here are some more helpful links. Podcast episodes that will help you change the way you think about money in a more positive and productive way: